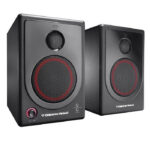 Description
XD5
5″ Studio speakers
DESCRIPTION
With over 50 years of speaker system know-how for concerts, movies, public address and clubs – when you want to recreate these experiences at home on the desktop – those that know turn to Cerwin-Vega!
When creating the XD5 speaker for desktop and computer applications the goal is to optimize the sound output while keeping the enclosure rather small by housing a large 5″ driver. Detailed reproduction in the top end and clarity in the mids are demanded, especially for those producing multimedia or analyzing tracks. Unlike plastic multimedia plastic speakers, the XD5 wooden cabinets ensure tight bass to enjoy a great audio experience. Clean sound is maintained by using low noise amplifiers that don't disappoint when the volume is set to high. If you need Cerwin Vega bass has in-your-face, turn on the signature Vega-Bass to enable the enhanced Bass Boost.
The XD5 fully integrate with your entire sound system and outboard accessories. The XD5 has the capability to handle multiple inputs, you can switch instantly between your computer as a source or other more portable devices such as iPods, phones and other media players via the 1/8″ stereo Auxiliary input. The XD5 also has a convenient headphone jack which allows you to "keep it down" while maintaining full control through the front panel power switch and volume adjustments.
Features:
The perfect companion for your computer
Compact size without "compact" sound
Appearance matches laptops and LCD monitors
Magnetically shielded to prevent interference
Rich and natural sound of a real wood enclosure
5″ woofer / 1″ tweeter
50 watts amplifier with built in crossover
Perfect for music, gaming and media production
Performance Data:
Frequency Response 60Hz – 21kHz
Power Ouput (Watts): 50
Weight 17.4 lbs / 7.9 kg
Dimensions (HxWxD) 260mm x 185mm x 240mm